"The

Amazing Star Mural Painting System

" will quickly have you making murals and portals (and even demo posters) that will not only blow your own mind but EVERYONE that sees your work! People will WANT THIS on their ceilings and YOU WILL make money! !

Here's How Star Muralists Are Quietly Making $150, $300, $500 Even $1,000 or More in a Single Day or Week. Sounds Far Fetched? Please Read on!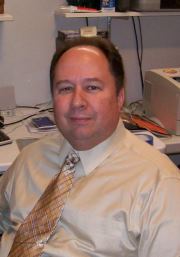 From the desk of . . .
Lee Cusano
Re: Fun, Easy, Money Making Opportunity
Dear Friend,
My name is Lee Cusano, owner of Lee's Painting Service located in Grand Bay AL. I have successfully owned and operated my own residential/commercial painting business since 1991 www.Painting-Business.com.
Back in 2005 I developed a powerful add-on niche for my business called Star Mural painting. While being a house painter and not really an artist, I couldn't even imagine painting a picture-type mural. Yet I have found star murals to be FUN, EASY and very impressive once I discovered what looks realistic and what doesn't!
You see, star mural ceilings look normal during the daytime, but when people turn their lights out at night their bedroom ceiling magically comes alive by mimicking the beauty of the heavens! BONUS: Real sunlight is stored and time-released from a secret high-end quality star paint and one that lasts all night!
This makes star murals even more dynamic. You can walk into someone's home knowing that not only are they going to get an awesome ceiling mural, but it will also be installed using REAL outer space ENERGY that is totally FREE!
An Easier $500 A Day Plan
As a professional painter I sometimes get as much as $300 – $500 for 7 – 10 hours of easy work in the drywall repair business because of the perceived value of professional drywall and plaster repair. www.Painting-Business.com/drywall-plaster-repair/
It is the same way for quality ceiling murals. The customer expects a professional looking star mural to be worth $500 or more BECAUSE OF WHAT IT IS – an awesome artistic creation of what a star filled night sky complete with the Milky Way and MORE should look like!
People all over the world are making money painting star murals. Some people seem to think that if anyone really wanted a star mural on their ceiling that they could do it themselves. Fortunately it is not that easy.
Unless you are skilled and know what you are doing you won't be happy with the end results. There are skilled trade secrets to making your star murals look good. If you develop these skills you will be well sought after for your work. And you will be paid handsomely for it as well.
As a matter of fact, my first few jobs netted me over $50 per hour. For example, I did a 6′ x 4′ portal-size star mural that was a birthday present for a guy's wife. It took me 2 1/2 hours to complete because I was new at it but I made $125 profit right on the spot.
WARNING: it can take YEARS figure this all out on your own. But you can have all this valuable, time-saving information TODAY and NOT have to wait forever to perfect it!

The Perfect Add-on Niche
As a house painter I was looking for a powerful add-on niche that I could make more money with in my house painting business. When I found this star mural painting concept I was tremendously excited about the income possibilities.
So, back in 2006 I added star mural ceilings to my painting business like other painters would add power-washing, ceiling and wall texturing or drywall repair, etc.
After a while I even started offering this as an ideal add-on service to other fellow painters that I have done business with online. Many of them are very interested in painting the stars. It's the perfect add-on for any home service business since you are already in people's homes!
It was 2005 when I began testing and using various tricks and techniques successfully on my own. After painting quite a few star murals over the years I have learned how to create some very realistic looking space scenes.
And since then I have put together a special, fully-illustrated CD-ROM and DVD that shows you everything needed to create your own amazing, cash producing star murals.
You will be able to create the most REALISTIC looking starry skies, shooting stars, Milky Ways, Constellations, Galaxies and really cool Sci-Fi artwork that will have your family, friends and neighbors (and customers) in awe!
Fast Learning System
There is a lot of information on the CD so I even added a special QUICK-START DVD. It shows you the basics and can have you making professional looking murals right away.
My painting system is simple and easy to use and produces REALISTIC looking star murals. The results are DYNAMIC. If you want to make $300 – $500 per day or more this type of painting could be for you!
With a little practice and some commitment, there is simply no reason why YOU cannot make a lot of money in this awesome specialty niche painting business.
Once you know the right techniques you can actually be making quality star murals WITHIN A FEW DAYS TIME.
Again, it is the type of painting that makes it a super-profitable business opportunity. As a skilled craftsman of a secret trade your work will always commands high profits.
What you are getting is an easy-to-follow, fully-illustrated, instant turn-key business. I reveal all of my star mural creation techniques and secrets, my sources and all the BEST low-cost tools needed for you to start making serious money right away.
Using these techniques, depending on the size, you can make $500 – $1200 per ceiling because of YOUR instant expertise! You will be able to do kids, teens and even grown-ups bedroom ceilings right off the bat – even commercial jobs.
And as you quickly progress and learn the trade you can gradually increase your rates per project!
As you get the hang of what you are doing, you can score amazingly big chunks of cash for highly detailed star themes that can be done in just a day or less whenever you want. You can work just one day a week or do murals every day.
There are advanced artists out there that are getting a small fortune for just small normal size bedroom ceilings. Their secret? Practice, Expertise and word-of-mouth! These people don't have to advertise. They are so good that word just travels!
It's the Best Home Based Business Opportunity for those who love crafts and hobbies!
In time you may get asked to do star murals in other states from word-of-mouth through the friends and families of your past customers. You could take your family with you on a mini-vacation and get paid for it!
Introducing:

"The Amazing Star Mural Painting System"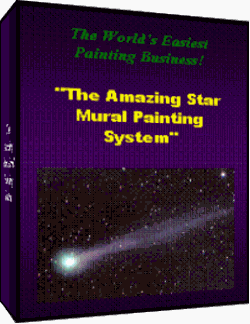 * One of The Top Best, Easiest, Most Profitable, Home Based Business Opportunities Available today!
* Everything Needed To Start Making $150, $300, $500 even $1,500 A Day or More is revealed!
* Discover How To Make Realistic-Looking Star Filled Ceilings That Twinkle Like The Actual Night Time Sky – (from dusk till dawn)!
* The Few BEST Simple, Low-Cost Tools Needed Are Revealed!
* Discover How To Make Planets, Moons, Constellations, Shooting Stars, Meteors, Comets and More!
* How To Create UFO's and Fantasy Scenes!
* Simple Marketing Plan – Even How To Get All The Customers You Want (there's a diamond mine in your own backyard)!
* A highly-detailed course (CD-ROM & DVD) that shows you how to make star murals that will command BIG CASH PROFITS and fatten your savings account.
This star mural course is very affordable when you realize that there are beginner and advanced week-long faux painting workshops that cost over $2,000 to attend (and that is without counting in the cost of your time, travel and lodging expenses).
After years of making star murals and star portals (since 2006) I can show you all the BEST-KEPT SECRETS for creating the most awesome works of art that ANY homeowner will be proud to have in their home (and showing to their family, friends and neighbors).
===================
While I am not exactly a gifted painter (just a neat one) I have found a fast way to make an easy $150, $300, $500 even a $1,000 per DAY or per WEEK doing pleasant, fun work.
It's called Painting "Star Murals" on Bedroom ceilings and even walls too. If you can paint a dot on a ceiling you can do this business easily. You see, there are as many bedroom ceilings to paint as there is stars and hardly anyone knows how to do this type of painting – but you soon could!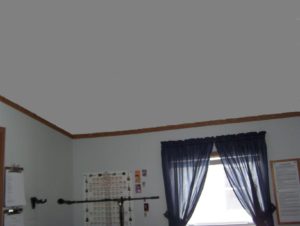 During the daytime a star mural ceiling looks normal.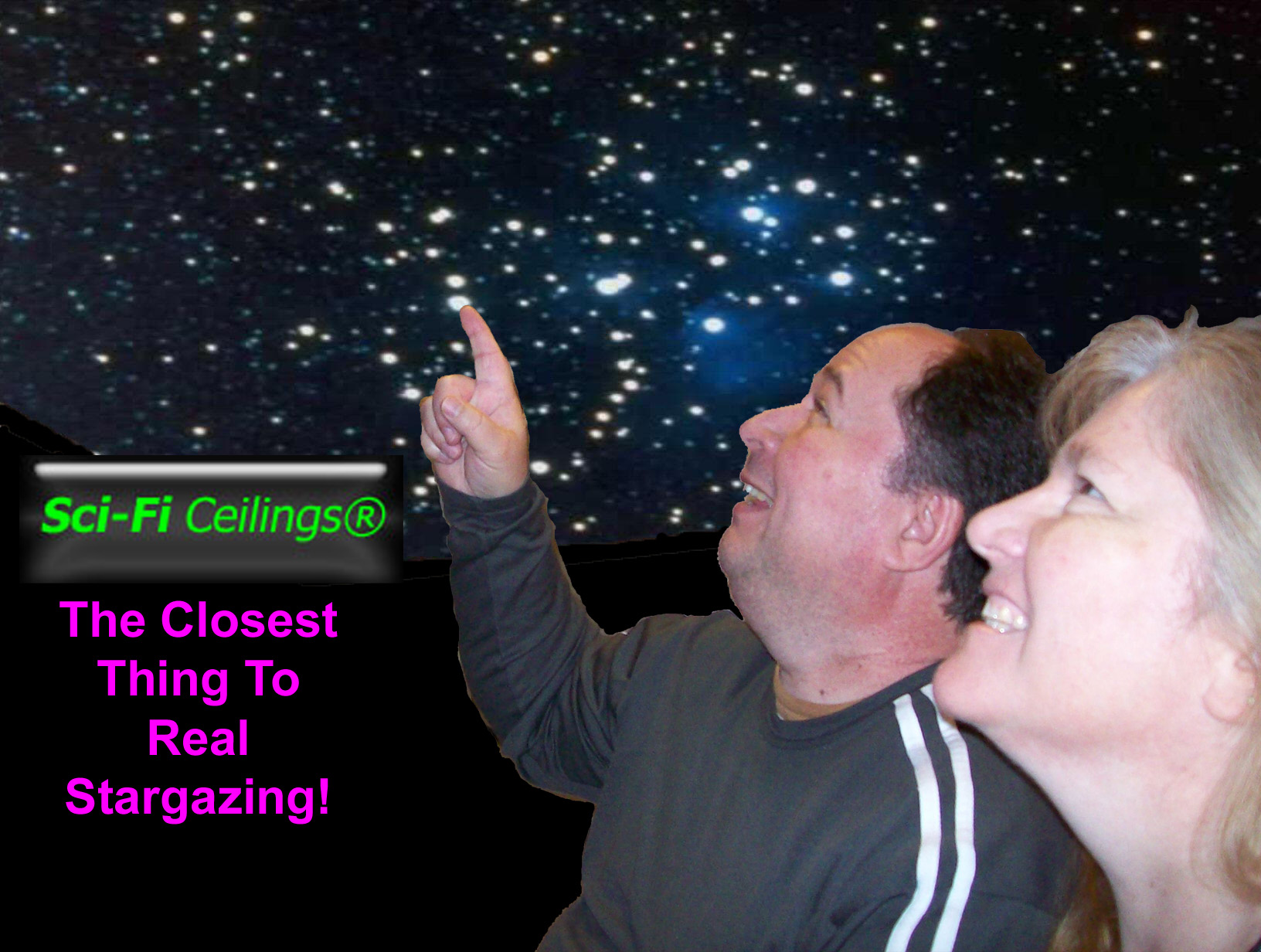 (This photo and the oval ceiling below are both simulated because it is hard to get a good photograph of an actual star mural ceiling.)
But at night when people turn out their lights the
magic begins and lasts all through the night!
Write your own paychecks making people's ceilings magically come alive with the most amazing twinkling stars, shooting stars and colourful fantasy Milky Ways…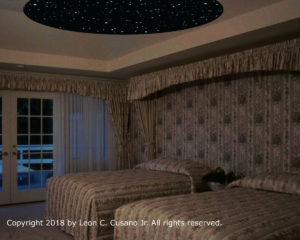 You can sell star portals (low-cost mini murals) for over the bed all day long. Most homes have 2 – 3 bedrooms. Do just 2 of them a day on average and make $300 a day or more! You can do 2 of these in just 2 hours!

Literally everyone is your prospect! Peoples homes have many possible ceilings to paint star murals on, not just bedrooms. Their cottages or summer homes even. There's hotels, motels, bed and breakfast places, inns, and lots more. There's as many possibilities as you can think of!
The average professional looking star mural costs around $500 – $600 or more and takes about a day or a half a day to paint depending on detail. The cost of materials is pennies compared to your profit!
You don't have to be gifted to paint these star murals either. If you can paint a dot on a ceiling you can make money in the star mural painting business. The secret is in knowing HOW to create them.
Once you make the jump from learning curve to light speed you can make your investment back quickly plus you can have a life-time of high income and financial freedom — even live anywhere you want to.
Own Your Own Life-Time, High-Profit, Specialty Painting Business
Again, after years of testing what works best, I have put together everything needed for someone to start their very own professional, high-profit, star mural painting business.
All the knowledge, resources and tools needed, including how to get plenty of customers is shown in an easy-to-follow, step-by-step course. Everything is in color and fully-illustrated.
Once you order your copy of "The Amazing Star Mural Painting System" on CD-ROM you will be on your way to the fastest, easiest painting profits around – Guaranteed! You will have a fantastic way to make money FOR LIFE!
Here's What Others Say…
"I am THRILLED with your comprehensive information!"…
Hi Lee,
i just wanted to let you know that i reviewed the information tonight, and i just have to tell you that i am THRILLED with your comprehensive information! you've obviously put a lot of time, effort and expertise into this package, thank you so much!… i have already sold one ceiling mural to one of my best customers. i will be doing my first mural for them in january, so that gives me plenty of time to practice.
Karen
Edmonton Alberta, Canada
"I have now got orders for 2 x ceiling paintings, 1x wall painting, and 11 posters"…
Hi Lee,
I dont know if I told you how much I liked your cd. the information given is good. I have now got orders for 2 x ceiling paintings, 1x wall painting, and 11 posters. I'm really pleased with whats happening for me, and its all thanks to you and your tips and guidence.
Best regards
Ed Buckley ( and partner Joyce Millington ), United Kingdom
You will have a perfect way to earn more money in just one day than most people make all week. You will be unemployable and financially independent. I love the feeling. I have been self-employed since 1991 now and I have never needed or wanted a regular job since.
Not often does a unique opportunity come around like this. I can show you how to turn ordinary ceilings into an accurate view of the night time sky when the lights go off at night.
During the daytime a star mural ceiling looks like any other ceiling. But at night when the lights go out and it's dark the ceiling magically comes alive with all the stars and constellations you choose!
Seeing is Believing
There is a certain amount of people out there that are naturally excited about the stars, outer space and awesome artwork. They come from all walks of life. It is your job to find them. The rest is easy.
All you have to do is show people your sample star mural poster that you created and there will be those that beg you to paint their bedroom ceiling! Lay the poster on the floor and it will look like you could fall right into a doorway to outer space!
You can easily create sample star posters that will excite people!
Here's the Vital Information You Will Receive in Your Copy of the Fully-Illustrated, Amazing Star Mural CD-ROM & DVD:

(Most of your tools can be found right in your own home town for less than a $100)
What type of glow paint is best and I personally use (and why) that is extremely low-cost per job and looks the best all night – "from dusk 'till dawn".
How to quickly build your own low-cost, super-accurate, "Galaxy Machine" for making constellation-correct ceiling murals (can accurately do probably 98% of bedroom ceilings).
How to create ANY Star Mural or Galaxy scenes, UFO's, etc. you want including Star Portals (mini-murals for over the bed) and Demo Posters.
How To Create Your Own Low-Cost Killer Space Stencils (add all types of exciting graphic designs to your star mural ceilings like flying saucers and more!)
What type of special lighting is needed for energizing your star murals and demo boards
My 6-step Pattern for Success for Making High-end, Cash Producing Star Murals that accent the very finest of homes.
How To Get Customers
How To Estimate Jobs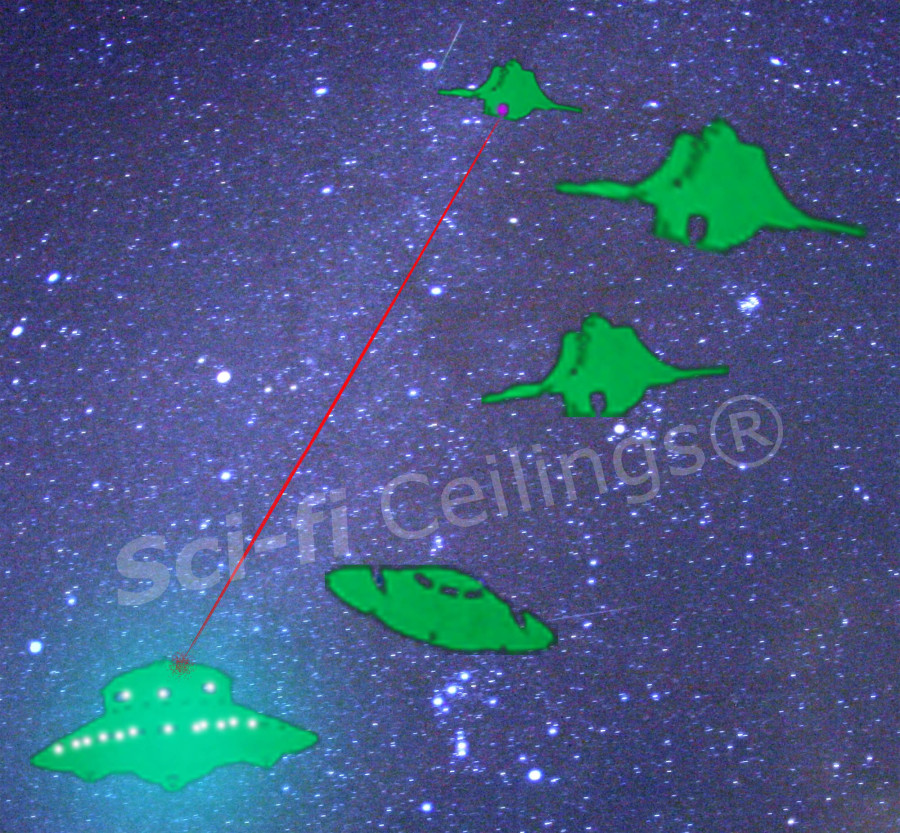 You will Discover the VERY BEST Low-Cost Applicator Tools Needed to create the most realistic-looking stars, shooting stars, comets, meteors, galaxies, etc. (these tools can be found right in your own home-town or online in secret places)
Everything is water clean-up and you will hardly need a drop cloth.
How to Accurately Price Your Work
How to Advertise Effectively and Get all the Business You Want for Practically FREE!
You will soon Become a Master of Light by discovering how to combine awesome space art graphics along with the most awesome, authentic-looking 3-D nebula clouds, piercing stars, background stars and Milky Ways – Even whole galaxies!!
Looking for a second job? Don't — (you'll never qualify again anyways for a regular job once you've been making as much as your doctor makes in one day – only with fewer hours!) Besides, the experts say that it is always far more profitable to start a small, part-time business than it is to go out and waste your precious time hustling for part-time "McPeanuts".
Realistically you could retire on just this Star Mural business alone if you really wanted to. Once you own your own you can do murals for life on a full or part-time basis. It's just that simple. And you can make money in Florida, California, Hawaii, Idaho or wherever your dreams take you.
Star Murals are so easy to do, an 80 year old man would have no problem running his own business as long as he could safely stand on a step ladder for an hour or two. The only difficult part is that most people would never figure out in a thousand years how to do an advanced star scene. And the rest don't want to take the time or could care less. They just want the end result.
Kids love this business. Just on that note alone the market is huge. But it doesn't stop there. Millions of people big and small are fascinated by these star murals — Especially today because of light pollution you only see about 1% of the stars in the sky.
Are you an artist? Great! – Let me show you how you can easily start earning a fantastic income from your own highly profitable Star Mural Painting Business!
Are you NOT an artist? Great! – Let me show you how easy it is to create these amazing star murals and how to start your own highly profitable Star Mural Painting Business!
BONUS

– As a professional painter, not only can I show you how to get all the business you want for practically free – I can show you how to accurately price all your jobs too (finish a job and go buy a toy you been wanting)!
Learn How To Get All The Customers You Want For practically Free (learn how to harness the greatest advertising tool)
Work Part-Time (do just one mural a week if you want)
Anyone Can Be A Customer (know anyone who has a bedroom ceiling or two… a game room… a movie room… den… a hotel or motel… bed and breakfast… etc…?)
Most People Have At Least 3 Bedrooms and even a den that's perfect for a ceiling Star-Mural
Easily Make Beautiful Constellation-Correct Stars
How To Easily Make Thousands of Realistic Background Stars
How To Easily Price Your Work
Make Extra Money Any Time You Want in Any State or Country you want
Fully-Illustrated CD-ROM/DVD With Color Photos Shows Everything Needed To Launch Your Own Star Mural Painting Business FAST!
All the tools needed are revealed and are cheap and easy to find
Make people stand in awe after you made their bedroom ceiling come alive with a perfect duplicate of the night time sky
Everything needed to make thousands per week is revealed!

Find out which STAR PAINT is the very best to use and WHY it's the best, plus the best tools as well (just a few simple, low-cost tools that are time-proven to make the very finest star murals)

These ARE the correct tools that I have found to work the best over the years to make my own REALISTIC-LOOKING 3-D Stars, Shooting Stars, Comets, Meteors, Milky Way Nebs, Galaxies and MORE!

Work just a couple hours a day and take the rest of the week off!
The perfect part-time business – Make a Full-Time Income Working Part-time Hours (make more per hour that most make all day or all week)!
Get all the customers you want for Free and practically FREE!!
If You Ever Wanted Your Own Instant Money-Making Business – HERE IT IS "An Easy $500 A Day Plan" – Sell The Stars – You even get to keep ALL the money too!
If you ever wanted a profitable part time business – This is it!

All you have to do is put a sample of your work in front of people and watch some of their eyes light up and their check books open (show it or blow it)!

Make $500/Day And More!
3 Good Reasons to Order
"The Amazing Star Mural Painting System"…
1.) If you really want to make star murals that give the illusion that the ceiling has disappeared …
2.) and make awesome Milky Way Nebulae clouds that look so real all night long …
3.) and cool looking UFOs and space creatures that you cannot take your eyes off of (adding a touch of Sci-Fi) … you need to order this CD-ROM & DVD NOW!
I promise you that using my techniques and secrets, you will be making high-priced, colorful space murals that are so beautiful, so real looking and that are visible from dusk till dawn!
MORE REASONS TO BUY
High Hourly Rate – Easily make more money per hour doing star murals than most jobs or service business could ever offer.
Guided by a Professional Painter – I have all the secrets for creating awesome-looking murals and I am ready to share them with you for a nominal fee. I also know how to get tons of business – especially Free business!
Free Help – Any time you need help in your star mural business you can e-mail me and I will be eager to help you.
Enjoy Your Work – It has been said… "If you love what you do for a living, you will never work a day in your life" – it's true!
Flexible Hours – You can work part-time hours but earn a full time income.
Awesome Low-Cost Tools – Since 2005 I have tested various tools to find the ones that work best for creating realistic star murals.
Easy Pricing System – You will have a simplified pricing system that is easy to use, easy for anyone at any income level to afford.
Powerful Low-Cost Advertising – These advertising methods are time-tested and are proven work well.
World's Easiest Painting System – Very simple, easy to use star mural painting system, Extremely light-weight fun work.
———————————————
Order Now and Get These Super-Hot Bonuses!
BONUS #1 Find out "How to get all the customers you want for FREE or Practically FREE"! Remember, I have been in the painting business since 1991 and I made thousands and thousands of dollars. I will show you how to make all the money you want instantly.
BONUS #2 I'll also give you Free Camera-Ready Ad Copy. My powerful advertising that is time-proven to pull in the cash – all you have to do is insert your name and/or company name and address and you're ready to go!
BONUS #3 I am going to reveal another easy way to make money with your star-mural painting business as well!
BONUS #4 Free Support. You got a question, just call me or e-mail me and I will do what I can to help. (I sincerely want you to succeed because I love to help people make better money. Plus, I would love to hear about your success!)
BONUS #5 I am also going to include a copy of my personal SPACE ART collection. It has spaceships, aliens, shooting stars and MORE! It retails for $79 but it's YOURS FREE with your order to help launch your new star business!
Now You Can Instantly Have Valuable Space Artwork For All Your Laser-Sharp, Star Mural Stencil Making!
"Add a Touch of "Sci-Fi" to Your Star Murals"
Introducing "Space Art" for Making Your Own Exciting Graphics!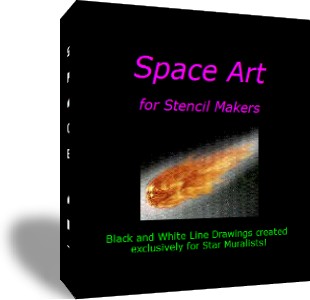 You get:
Tons of UFO's (you can easily create your own space battles or action scenes!)
Various Diamond Stars (these will sparkle in the night sky and dazzle your customers!)
PLUS, Shooting Stars, Comets, Space Characters and More!
If you are serious about making $500 a day or more and plan on adding extra artwork to your star mural designs, you need the Space Art Collection!
SPECIAL INTRODUCTORY OFFER This artwork took months to compile and complete but you can have it instantly for Only $79.00. FREE with your order! (Valued at $79.00)
You will be able to make awesome artwork instantly. Artwork that commands even MORE PROFITS for YOU!
You could be making RED-HOT money this week!
Available in PDF format for excellent printing right from your computer!
(You can OWN your own Amazing Star Mural biz right now for the ridiculous one-time fee of Only $579.00

$397

for a lifetime of amazing profits — ORDER TODAY!!!) — HURRY because this insanely low price is only temporary. It's soon going back up to $579.00.
Secure Order Form
Option: 1 Order "The Amazing Star Mural Painting System" on CD-ROM & DVD instantly and safely right now online!
YES!

I want my own high-profit Star Mural Painting Business. Please RUSH my copy of

"The Amazing Star Mural Painting System"

on

CD-ROM

and

DVD

by First Class Mail.
Since I am ordering before midnight I understand I will also receive ALL of the bonuses mentioned above for FREE along with my order. I also understand that my credit card will be charged a one-time fee of only $397.
ORDER NOW USING PayPal's SECURE SERVER!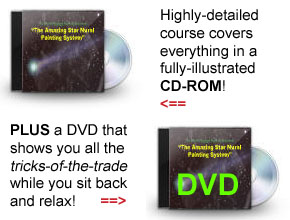 FREE Shipping Worldwide!
Retail Price $579.00 SALE Only $397
Option:2 Uneasy about ordering online? You can also order by mail and get it on CD-ROM plus the DVD for Only $397.00. Just send a check or money order and include your complete mailing address (and even e-mail address for shipping confirmation).
OR …
Send a Check or Money Order to:
Lee's Painting Service-Stars
Box 661, Grand Bay, AL, 36541
Dear, Lee!
Just wanted to check in and thank you for all the terrific info that's help my sister and I get launched in the business! Your info really rolled our socks up and down and we really appreciate the time you took to put this together!
Warmest wishes your way!
Shannon Jensen in VA
—————————————————-
P.S. Avoid the long slow learning curve and make the jump to highly-skilled star muralist now. Order "The Amazing Star Mural Painting System" today and send your new business into hyper drive!
P.P.S. You have literally ZERO COMPETITION. Once you learn the art of star mural painting WORD-OF-MOUTH will make you rich. There doesn't have to be any more minimum wage jobs or long, boring salaried hours, etc. Command BIG INSTANT PAYDAYS for something you love doing. Instant income, work WHERE you want and WHEN you want!
P.P.S. If you're serious about making $150, $300, $500 even $1500 a day or week, it will cost you money NOT to buy this complete star mural course!

Feedback * Privacy Policy * Contact Us * Earnings Disclaimer
© Copyright 2005 – 2018, Lee's Painting Service. All Rights Reserved.